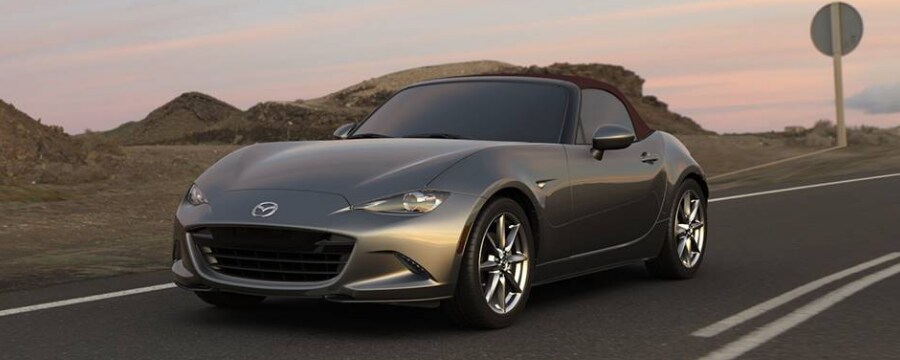 At Mazda of Orland Park, we believe in delivering you with some of the finest vehicles that fit great with your lifestyle. We have some amazing car and SUV options, and we even have some great sports cars like the 2019 Mazda MX-5 Miata. Learn more about this vehicle below, and stop by Mazda of Orland Park for a test drive today.
2019 Mazda MX-5 Miata
The 2019 Mazda MX-5 Miata has a new engine with more power for the 2019 year, and it offers you a comfortable cabin and some good technology. Learn more about the 2019 Mazda MX-5 Miata below.
Technology
This vehicle also gives you some great technology features. In the 2019 Mazda MX-5 Miata, you can get a 7-inch touchscreen, six-speaker audio system, two USB ports, Bluetooth, keyless entry, and a rearview camera. You can also upgrade for more technology like navigation and satellite radio. With these technology features, you can stay connected always.
Performance
The Mazda MX-5 Miata receives an upgraded engine for the 2019 model year. This vehicle now has a 2.0-liter inline-four Skyactiv engine. This engine 181-horsepower and 151 pound-feet of torque. This vehicle also gives you a six-speed manual transmission standard, but you can get a six-speed automatic if you would like to make the change. This vehicle also gives you 26 city miles per gallon and 34 highway miles per gallon in terms of efficiency. Also, you can upgrade and add packages for increased performance. One of these packages is the GT-S package that adds Bilstein shocks, a sport-tuned suspension, a limited-slip differential, and more.
Safety
In terms of safety, this vehicle offers you some great available driver assistance features. Some of these features include blind spot monitoring, rear cross traffic alert, lane departure warning, traffic sign recognition, rain-sensing windshield wipers, and more. These features add safety and convenience for you no matter where you plan on driving.
The 2019 Mazda MX-5 Miata is an amazing sports car. This vehicle has capability, style, and technology. If you would like to take a test drive of this vehicle for yourself, stop by Mazda of Orland Park.
Mazda of Orland Park is a Mazda dealership near you. We have a great selection of 2019 Mazda models for sale including the 2019 Mazda MX-5. Stop by and see us today and we can help you upgrade to your next vehicle.