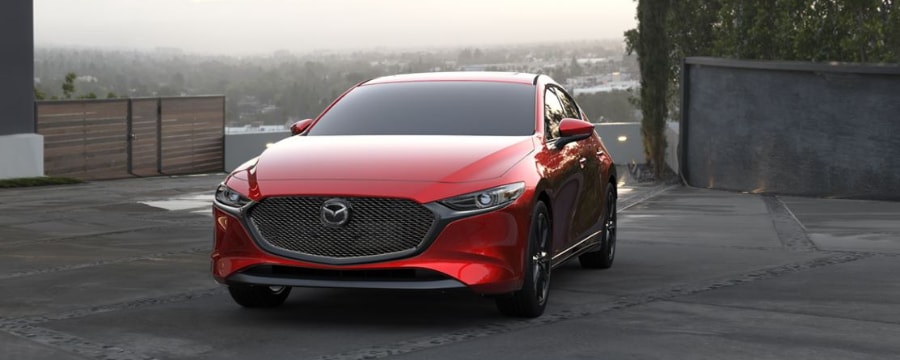 At Mazda of Orland Park, we have a huge selection of new and used Mazda vehicles for sale such as the 2019 Mazda3 Hatchback. If you are interested in learning more about the Mazda3 Hatchback, keep on reading!
2019 Mazda3 Hatchback
The 2019 Mazda3 Hatchback is a fun-to-drive hatchback that many drivers are obsessed with. It's loaded with modern technology and safety features and has an upgraded modern interior. Stop into Mazda of Orland Park located at 8910 W. 159th Street in Orland Park today to test drive a 2019 Mazda3 Hatchback for yourself! You won't regret it. 
Trim Options
The Mazda3 Hatchback has four trims: Base, Select, Preferred, and Premium. All-wheel drive is a stand-alone feature on all versions, except the Base trim.
Design
It's no secret that the 2019 Mazda3 Hatchback is a good-looking car. Smooth yet powerful lines flow from one end of the car to the other. The standard LED headlights fit perfectly into the large, aggressive hexagonal grille. The rear is just as slick looking as the front of the vehicle, no other hatchback can compete with this look. The interior isn't any less attractive. It operates under the Japanese philosophy of "less is more." The Mazda3 Hatchback is beautifully designed and if you want to learn more about it, come down to Mazda of Orland Park!
Comfort
The interior of the Mazda3 Hatchback is carefully crafted around the driver. The features are molded to that of the driver, making movements between the car and you flawless. The seats are supportive and mold to your body. The interior is very quiet, which adds to the smooth drive. There are many upscale materials including leather, metal, and buttons designed and positioned to work with yours and the cars ergonomics. The controls, navigation, connectivity, and other useful media are just to the right of the driver- right at arms reach. 
Performance 
The 2019 Mazda3 Hatchback comes standard with a 2.5-liter, four-cylinder engine that produces 186 horsepower and 186 lb-ft of torque. A six-speed automatic transmission is standard. Fuel economy varies based on trim, ranging from an EPA estimated 27 MPG city/ 36 MPG highway. The Mazda3 Hatchback has sharp steering and well-controlled composure around turns. 
Technology and Safety Features 
The 2019 Mazda3 Hatchback is equipped with an 8.8 inch infotainment system which comes standard with Apple CarPlay and Android Auto. Apple CarPlay and Android Auto come in very handy when cruising around town. You can make and accept phone calls, access your iTunes to play your favorite song and even use maps to navigate. This Mazda is also jam-packed with standard safety features that are optional. These include adaptive cruise control, lane-departure warning, lane-keep assist, rear cross-traffic alert, blind spot monitoring, forward-collision warning, automatic emergency braking and automatic high beams. 
2019 Mazda3 Hatchback Available at Mazda of Orland Park 
You can't go wrong with a 2019 Mazda3 Hatchback from Mazda of Orland Park. We are your Orland Park Mazda dealer and a dealer you can trust. We are located at 8910 W. 159th Street in Orland Park, so stop in today to see our wide selection of new and used Mazda models. Our dealership is home to many Mazda models that will fit your lifestyle and budget with the help of our incentives and pre-owned specials. Make sure to also check out our service specials, we want to keep helping servicing you even after you purchase your Mazda!