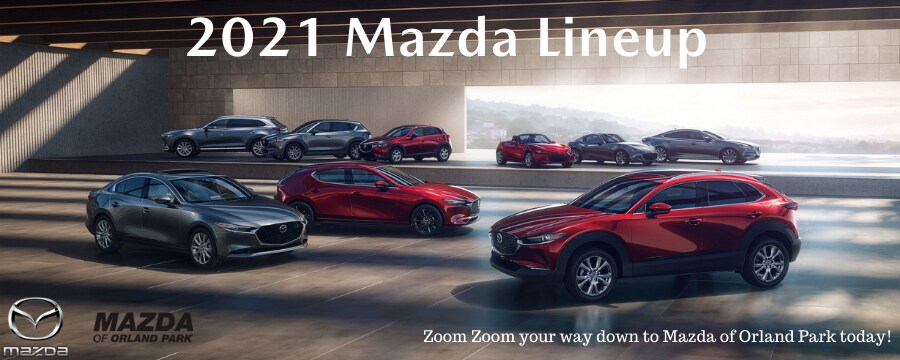 At your favorite Mazda dealer Orland Park, we are pretty stoked about the 2021 Mazda models. This includes the 2021 Mazda CX-30, 2021 Mazda CX-5, and 2021 Mazda CX-9, among others.
Mazda has enjoyed quite a run of success in recent years. We feel we are a part of that by offering you the best deals and service on these great sedans and SUVs. Of course, it's our customers that contribute the most to this success. Having said that, you wouldn't buy a Mazda if it wasn't one of the best vehicles being produced today. I guess we'll just have to spread the credit around to all of us.
If you've never driven a Mazda, we need to fix that right now. Come see us today to view all of the new Mazda models for sale at Orland Mazda. 
2021 Mazda Lineup at Orland Mazda


2021 Mazda CX-5
In 2019, the CX-5 topped the Mazda list of best sellers in the US. The redesign for the 2021 model promises to keep this great compact crossover in its top spot. We have no official word on what these changes will entail, but we believe we're going to see a new option in powertrains. Right now the CX-5 has a few options such as a naturally-aspirated powertrain (190 horsepower) and a turbocharged unit (250 horsepower) so we can't wait to see what that new choice might be.
2021 Mazda CX-30
Your Orland Mazda is the place for the new Mazda CX-30. With a 2.5-liter four-cylinder with a choice of front- or all-wheel drive, Mazda delivers fuel efficiency without sacrificing power. Safety and driver assistance features sweeten the deal on this great subcompact SUV too. Forget those sedans and never mind those hatchbacks, the CX-30 has what you need in practicality and price.
2021 Mazda CX-9
Your new Mazda is waiting for you at Orland Mazda. If that includes the 2021 Mazda CX-9 you're in luck. This SUV offers a quiet smooth ride with plenty of tech options to keep you engaged in your driving as well as entertained with infotainment options. The CX-9 trim levels include the Sport, Touring, Grand Touring, and Signature with options for FWD and AWD available for the first three levels. There are no new changes expected to the 2021 model, but why mess with success?
New Reliable Mazda Vehicles For Sale at Orland Mazda
If you are in need of a new Mazda, it's Mazda of Orland Park. If you're not looking for a full-size or even compact SUV or crossover then the 2021 Mazda MX-5 Miata or Mazda3 may be exactly what you need.
Visit Orland Mazda Today!
If you're looking for a 2021 Mazda for sale, you're in luck. We are the best of the Mazda car dealers in Illinois (and beyond) so consider us for all of your Mazda needs. Questions? Call our sales department at (708) 444-3200 or visit us at  8910 W. 159th in Street Orland Park.
Hours
Monday

10:00am - 7:00pm

Tuesday

10:00am - 7:00pm

Wednesday

10:00am - 7:00pm

Thursday

10:00am - 7:00pm

Friday

10:00am - 6:00pm

Saturday

10:00am - 5:00pm

Sunday

Closed