Chicago Areas Served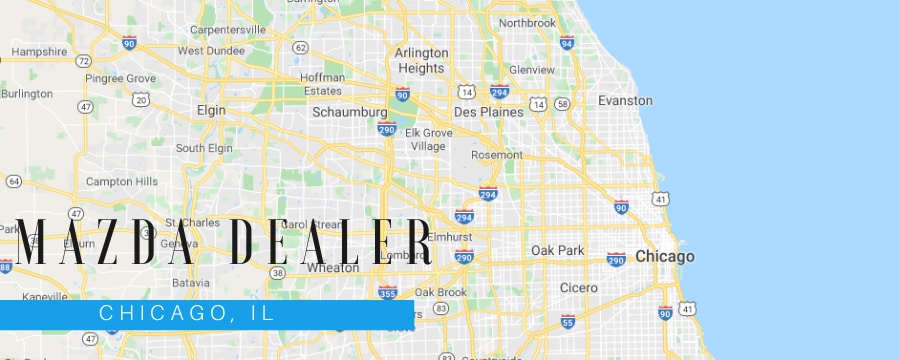 Mazda of Orland Park is a Mazda Dealer Near Chicago, IL
If you're looking for a Mazda dealer near Chicago, IL that can give you the newest Mazda models, Mazda auto parts near Chicago, and the best auto service near Chicago, IL, there's no better destination than Mazda of Orland Park located at 8910 W 159th St. in Orland Park! Our passion to serve the community and meet and exceed all our client's expectations has truly elevated us from the rest of the other dealers in the area! You will not experience service like ours at any other Illinois car dealer. Call us today at (708) 444-3200 if you want to know more about our brand of service and dedication! We look forward to speaking with you! 
Quality and Affordable New & Used Cars near Chicago, IL
If you've ever asked yourself the question, where is the Mazda dealership near me? We have the answer for you: Chicago Mazda! We have the latest Mazda models for sale near Chicago from the 2020 Mazda3 and 2020 Mazda6 to the 2020 Mazda CX-5 to the all-new 2020 Mazda CX-30. If you are interested in something a little sportier, how about a brand new Mazda MX-5 Miata convertible? We also have stellar used cars for sale near Chicago, including selections of the Mazda vehicles and more! For more information on our selection of new Mazda models for sale near Chicago, used cars for sale near me, or our great assortment of car deals near Chicago, feel free to give us a call at (708) 444-3200 today!  
One-Stop Shop Auto Service Near Chicago, IL
There are many Mazda dealers in the area, but Mazda of Orland Park is by far the quickest and most reliable. Our expert Mazda technicians are equipped with the latest state-of-the-art tools and technology which help diagnose any and all problems that may be effecting your prized Mazda. No matter the services, everything from an oil change to brake replacements, our technicians can handle! Make Chicago Mazda your #1 auto service in Chicago.
With service deals on oil and filter changes, tires, brakes, and more feel free to make your appointment online today!  These offers and deals make fixing your vehicle extremely cost-efficient. Chicago Mazda owners can call us today at  (708) 444-3200 to learn more about our service center or our Mazda offers and incentives in Chicago. 
Make Chicago Mazda Your Local Mazda Dealer 

 
The next time you're out driving, pay attention to the cars you see.  Mazda's are everywhere, and for a good reason! Head to a Mazda dealership near me to test drive some of the safest cars on the market. Not sure where the closest Mazda dealership is? Ask, "Alexa, where is a Mazda dealership near me?" Don't have an Alexa? Ask, "Siri, show me a Mazda dealership in Chicago." 
Find out more about Mazda for sale near Chicago, visit us at Mazda of Orland Park today. You'll find us at 8910 W. 159th in Street Orland Park. You can also call our friendly and knowledgeable sales department at (708) 444-3200. We have financing available and plenty of certified pre-owned vehicles and new Mazda models available too!