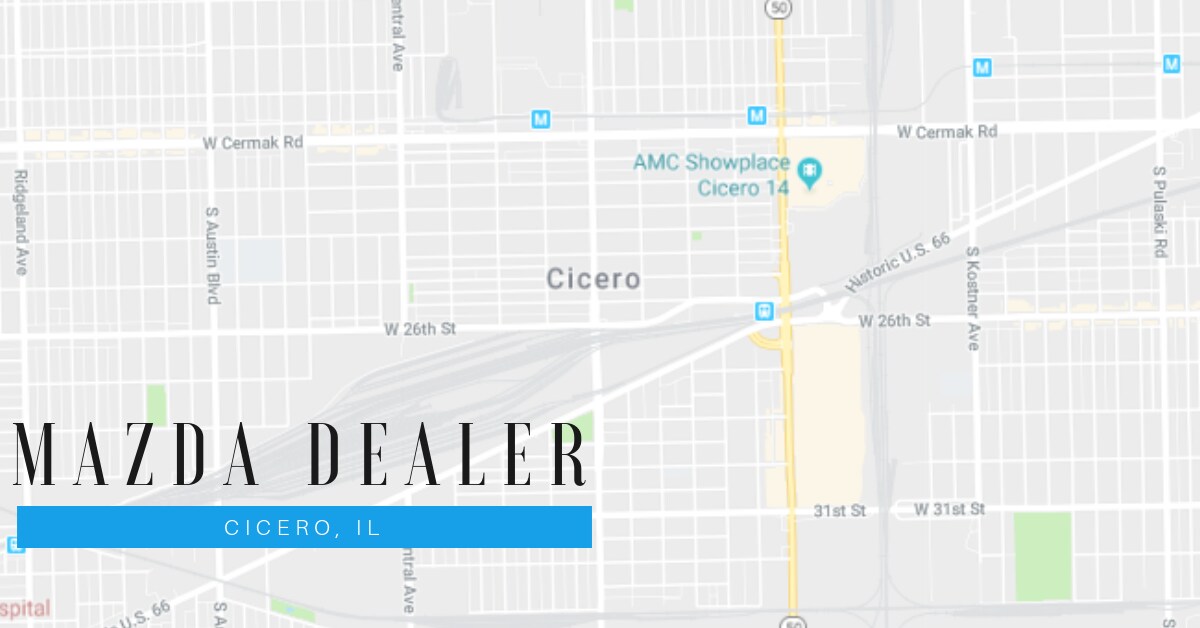 Serving Cicero, IL
 If you have been scouring Cicero and nearby areas for a Mazda dealer near me that's right for you, you might be ecstatic to hear that the answer you have been searching for is just a short drive towards 8910, 159th St, Orland Park, IL 60462 at Mazda of Orland Park. From an expansive inventory that features the best and the latest Mazdas for sale in the market to custom designed financing/leasing deals, Mazda of Orland Park makes sure that all your needs are met and expectations exceeded!
 To learn more about our current inventory, the cost-effective financing and leasing solutions that you can potentially enjoy, trade-in quotes or schedule a test drive, call (708) 444-3200 today!
Inventory 
Want to know the ideal Mazda sedan, hatchback, SUV or Coupe for your driving needs and budget? Explore our user-friendly online inventory or visit us at 159th St in Orland Park, IL and see for yourself what we may have in store for you. You might be interested to drive home a 2019 CX-9 - Mazda's biggest and most sophisticated SUV creation that easily stands out in its class thanks to its beautiful styling, luxurious interior, and exceptional performance.
 Or perhaps you want to get behind the wheel of a beloved car all over the word that's been racking awards and accolades for years? Try the 2018 Mazda 3 with its straightforward but effective formula of handsome looks, high-end interior features, and elevated driving performance.
If you need help in finding the perfect Mazda that's right for you and your needs, call Mazda of Orland Park at (708) 444-3200 now!
Used Vehicles
 Is there a Mazda for sale near me that is not only cost-effective but still capable of offering plenty of years of solid service? The answer is an assured YES with Mazda of Orland Park's Certified Pre- Owned Vehicles! Low mileage, carefully hand-picked, and are put through a stringent multipoint inspection and refurbishment process that's carried out by Mazda Trained Technicians, certified Pre-owned Mazda vehicles can still perform like a brand new one!
Explore more of the other used cars and CPOV's near you that you can drive home with Mazda of Orland Park by calling (708) 444-3200 today!
Service
If you need a Mazda dealer near Orland Park that will help bring the best out of your Mazda through professional grade auto service and parts replacements, you will find none better than Mazda of Orland Park at 159th St in Orland Park, IL. Whether it's examining and re-calibrating all your car's fluid levels, oil, and tire changes, to inspecting brake pads, calipers and rotors, our highly trained and experienced technicians will give the best kind of service that your car deserves!
We also have 100% genuine Mazda parts and accessories for sale offered alongside special deals and discounts! To schedule service or order parts at your trusted Mazda dealer near me, call (708) 444-3200 now.