Serving Frankfort, IL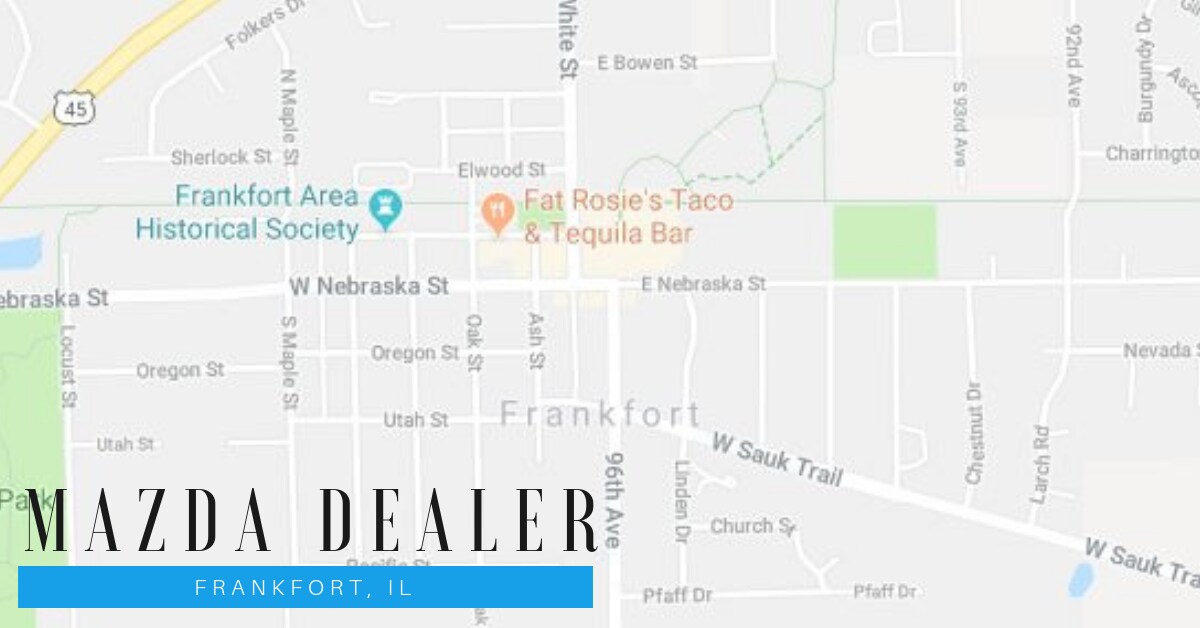 Searching for a Mazda dealer near Frankfort, IL? You found the perfect one!
Have you been wondering: "Is there a Mazda dealer near me that can help me drive home a new or used Mazda for the right deal and most affordable cost?" Or a Mazda dealer near Frankfort, IL that provides an extensive array of Mazda models and trims? With Mazda of Orland Park, the answer is a resounding yes! And because we are conveniently located in 8910 W, 159th St, Orland Park, IL 60462, drivers and car shoppers near Frankfort and other surrounding areas in Illinois are only a short drive away from experiencing a world-class Mazda dealership that offers budget-tailored financing/leasing options and special deals to a broad fleet of Mazda cars for sale near Frankfort!
Know more about Mazda of Orland Park, its current deals and inventory, request for a trade-in quote or schedule a test drive, by calling (708) 444-3200 today!
Mazda Dealer Near You
Looking for a brand new Mazda that's right for your needs and budget? If you are, then Mazda of Orland Park is ready to help! We have an inventory that carries the best and latest Mazda cars for sale near Frankfort that can cater to a variety of tastes and lifestyles!
Perhaps you want the perfect family vehicle? The CX-9, Mazda's largest and most advanced SUV, could be the best option you are looking for with its striking looks, premium interior design, and versatile drive! If you want to sport a great ride, you can also consider a Mazda 3 with its amazing combination of magnetic styling, luxurious interior, and dynamic driving performance. It's also a popular car in America and many parts of the world which gives you additional bragging rights in your ride – if this is something that appeals to you.
But regardless if its an SUV, Car or any automobile from Mazda, you will surely find what you are searching for in our expansive inventory! For more information on the new Mazda models and trims available at Mazda of Orland Park and if you want to schedule a test drive on the Mazda of your dreams, call (708) 444-3200 now!
High-Quality Used Mazda Cars
Looking for high-quality used cars near Frankfort, IL that can cater your tight budget and discerning tastes? With certified pre-owned vehicles from Mazda Park of Orland Park, you can expect to enjoy the best of both worlds! Low mileage, carefully hand-picked, and are put through a stringent multipoint inspection and refurbishment process that's carried out by Mazda-trained Technicians, certified Pre-owned vehicles from our lot still have what it takes to satisfy all your driving needs and desires without breaking the bank!
If you want to know more about the CPOVs and used Mazda cars for sale near Frankfort, the superb deals and savings that you can potentially enjoy from a trusted and friendly Mazda dealer near me, call (708) 444-3200 today!
Top-Notch Auto Service and Genuine Parts at Discount Prices Near Frankfort, IL!
Mazda cars are known for their excellent performance and reliability that lasts for a lifetime. To make sure that you enjoy these unique benefits at the optimum level, regular care and maintenance are essential. Fortunately for Mazda drivers in Frankfort, IL and nearby areas, there's a renowned Mazda dealer near Frankfort that offers world-class full-auto service and maintenance in Mazda of Orland Park. The best Mazda dealer out of all Mazda dealers in Illinois. From inspecting and re-calibrating all your car's fluid levels, oil, and tire changes, to checking brake pads, calipers, and rotors, we employ a full staff of highly-trained and experienced Mazda technicians who can deliver the best possible results with the use of genuine parts and industry-best practices and equipment!
What's more, we provide 100% authentic Mazda parts and accessories that come in special deals and discounts. If you want to call our Mazda service department or order parts at outstanding prices, call (708) 444-3200 now!