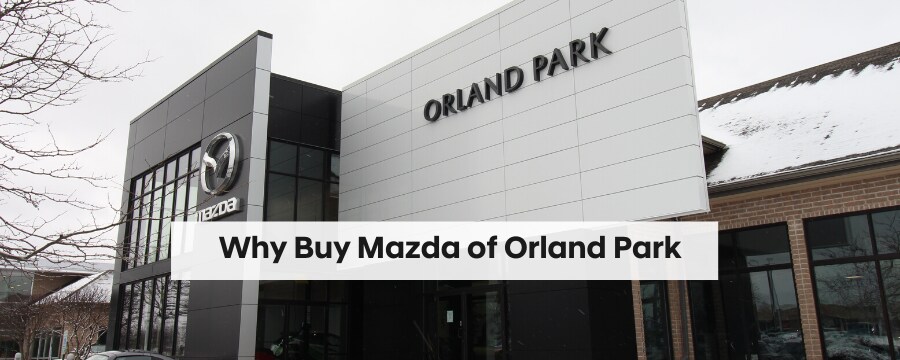 Owning a Mazda can be one of the most beneficial life choices you can make. They are incredible vehicles that exceed your wildest dreams and expectations. If you are buying your first car, we can make the process easy for you. We will help you every step of the way, answering any questions you may have, and helping you figure out all of the reasons for buying a Mazda.
Top Reasons to Buy a Mazda in Orland Park
Mazda of Orland Park takes pride in knowing we can help you make one of the best decisions of your life. We will welcome you to the Mazda family and make sure you feel comfortable driving the Mazda of your choice.
Why buy a Mazda? It is one of the most reliable brands on the market. We want you to be safe driving. No matter if this is your first car or one of many, we want you to join our family. We train all of our employees thoroughly, so no matter whom you ask, they will provide the most honest answer.
What other types of Mazda are there? We currently sell many different Mazda's. With so many choices, we can provide an option for any lifestyle. We sell Certified Pre-Owned vehicles, as well as brand new cars for sale near Orland Park, all in various ranges depending on what you need. We also have trade in options available, if you don't know what to do with your other car, that's OK. We will take care of everything for you.
One of our latest options for a new or used vehicle is the Mazda3, the sleek modern look of this car is eye-catching for anyone on the market. But why buy Mazda3? Not only is it as reliable as our other cars, but it has the latest safety technology installed in the vehicle for your safety. No matter where you drive, you will be safe in your Mazda 3. 
Available safety features in the Mazda3 include: 
Driver Attention Alert Mazda 

Radar Cruise Control with Stop and Go Function 

Smart Brake Support 

Lane Departure Warning with Lane-Keep Assist and High Beam Control 

Rear Parking Sensors 

Adaptive Headlights 

Traffic Sign Recognition 
If you are in the market for something a little bigger than the Mazda 3, the 2019 Mazda CX-5 may be the perfect fit for you. Why buy Mazda CX-5? It is the ideal four-door family car while still having a sleek look to it. Mazda brings the highest level of comfort while also bringing a comfortable and elegant interior. This car offers stability and reliability other SUVs can't offer. No matter what you're hauling around, you know you will be able to fit it in your car and get place to place safely. 
The Mazda CX-5, along with every other Mazda in the new Mazda lineup includes: 
High-quality materials 

Comfortable and lumbar supporting seats 

New Mazda Connect Infotainment System 

Perfect mixture of beauty and modern technology 

Harmony between driver and vehicle 
These are only a few options our Mazda dealership provides. There are many more to choose from. We are dedicated to you, taking every single one of your thoughts and feelings into consideration. 
Why Buy from Mazda of Orland Park 
We are committed to helping you find the Mazda that perfectly fits into your life. Our massive inventory is just one way we meet the requirements of this! We also have new vehicle specials and used cars for sale in Orland Park that can help you are your wallet feel better. You are guaranteed to find the star car on our Orland Park Mazda lot. We know that every customer is unique and so is every car. Stop in to take a look at our newest vehicles at  8910 W. 159th in Street Orland Park, or call us at (708) 444-3200. Our team is looking forward to talking with you.
Visit Mazda of Orland Park Today!
Hours
Monday

10:00am - 7:00pm

Tuesday

10:00am - 7:00pm

Wednesday

10:00am - 7:00pm

Thursday

10:00am - 7:00pm

Friday

10:00am - 6:00pm

Saturday

10:00am - 5:00pm

Sunday

Closed