Mazda Dealer Serving Chicago Heights, IL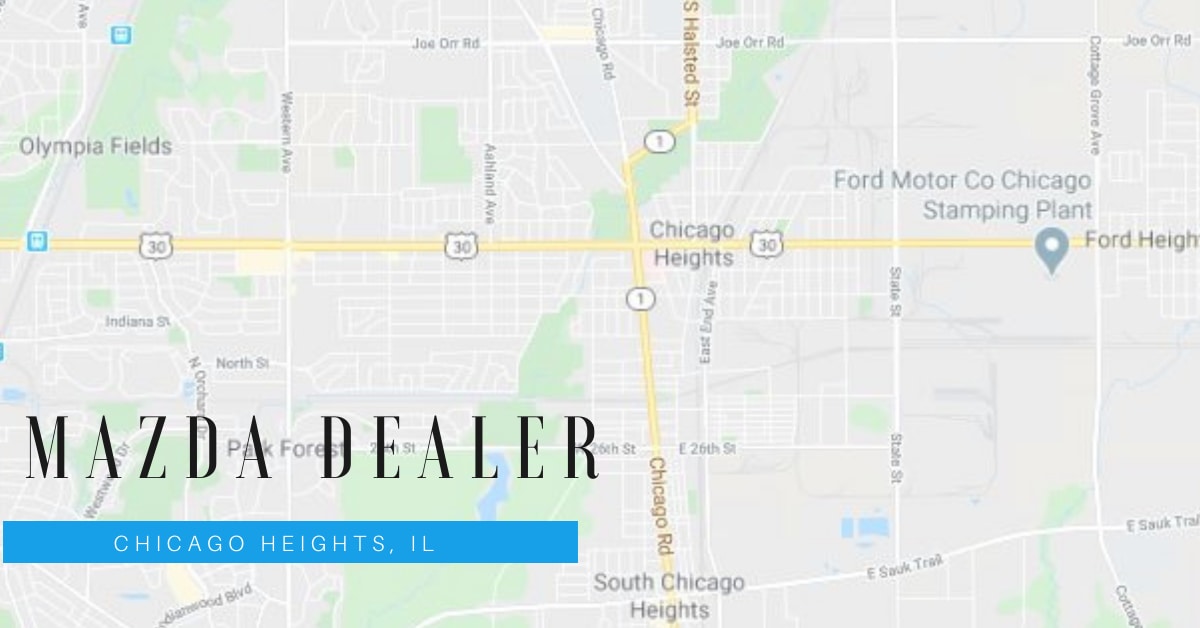 A Mazda dealer near Chicago Heights is only a short drive away! 
Our Mazda dealership takes pride in knowing we can serve our community in the Chicago Heights area and provide them with some of the most reliable cars on the market. No matter what size, color, or type of car you are looking for, our team can find you the vehicle of your dreams.
Our Chicago Heights Mazda dealership is dedicated to giving you an excellent experience. We are continuously training our staff to be better and provide you with the best customer service they can provide.
A Chicago Heights Mazda dealer that has a great atmosphere and friendly staff is closer than you think
Mazda car dealers are known to have a friendly atmosphere, making the car buying process less of a hassle. In fact, we try to make it as fun and stress-free as possible. We allow you to sit back and enjoy the ride while we take care of the other necessities. Our staff has been with us for a while now, so they all know everything there is to know about all of our Mazda's on our lots. If you have a question, odds are they have the answer! 
Finding a Mazda for sale near Chicago Heights has never been easier. Our dealership provides a convenient location in your local neighborhood. You can stop in to look around and book an appointment or call us over the phone.
High quality auto service conveniently located near Chicago Heights
With so many options and reasons to buy a Mazda, you will no longer have to ask yourself questions like "Where is a Mazda dealership near me?" You will know exactly where we are and we will become a staple in your car service routine. With reliable Mazda technicians equipped with nothing but the latest and great technology and tools, you are not likely to find a better "Mazda service near me" than right here at Mazda of Orland Park. Along with our great auto service comes even better auto service coupons and specials. 
Reliable Mazda models for sale near Chicago Heights at reasonable prices
Owning a Mazda is one of the best ways to provide safety and reliability for your family and yourself. We take pride in offering these cars to our community and being able to finance most people who walk in. Our Chicago Heights Mazda dealership wants to meet you whenever you're ready to take a leap of faith. Mazda's are known to be sleek and clean, providing classic details and the highest technology within each car. 
It could be the best addition to your life. We offer vehicles that are not only beautiful but practical for everyday life. We have a huge selection of both new Mazda's for sale near me and used cars for sale near me.  We have one of the largest selections of Mazda's in the Chicago Heights area! Yes, you heard that right. You need to view our selection yourself online today. We have everything from the Mazda3 to the all-new Mazda CX-30.
Mazda of Orland Park is your Chicago Heights Mazda dealer
If you are looking for a car, try searching for us! No matter what you're looking for, we will help you, and once you pick the best car for your lifestyle, we will provide you with all of the knowledge you need to get the most out of your Mazda.
Mazda of Orland Park wants to be known for meeting every expectation you have set and surpassing them. Our team is eager to share our passion with you and build a secure connection with you. Stop in to meet our enthusiastic team and test drive our latest Mazda models. You'll find us at  8910 W. 159th in Street Orland Park, or call us at (708) 444-3200. Our team is looking forward to talking with you.