Safety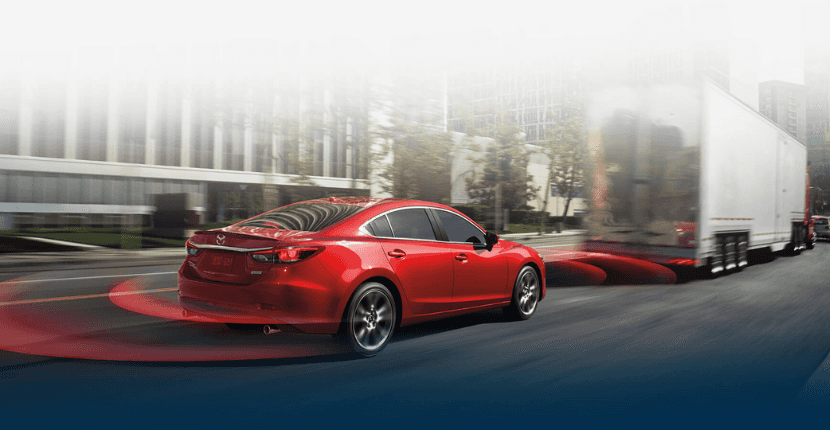 Safety is the most important priority, which is why Mazda has poured its resources into developing a wide range of advanced safety technology to keep you and your passengers safe. Since humans are susceptible to mistakes, Mazda vehicle safety technologies aim to maximize the conditions in which drivers can drive comfortably and safely through hazard alerts and better vision in blind spots. Mazda bolsters many collections of Mazda safety technology such as the i-Activsense. Each cluster of safety features serves a unique purpose.
i-ACTIVSENSE
i-Activsense is Mazda's premium collection of safety technology designed to prevent collisions, support safe driving and reduce collision damage. This system includes:
Mazda radar cruise control – The vehicle will automatically control its speed to maintain a safe distance between you and another car.
Smart city brake support & smart brake support – These systems aim to increase brake stoppage to prevent front collisions and limit the damage by preparing the brake system.
Rear vehicle monitoring system – You'll be alerted when vehicles are approaching from behind you on the highway.
Adaptive front-lighting system – The low beam headlights are pointed in the direction you are steering
Lane departure warning system – Any time you unintentionally exit the lane, this system will detect and warn you.
Acceleration control for automatic transmission – If the accelerator pedal is accidentally pressured, the system will curb engine output to prevent sudden take-offs.
Forward obstruction warning – An collision detected triggers an alarm, which notifies you of where the collision occurred.
High-beam control – In situations where the view is obstructed, such as fog or low-lit areas, high beam lights allow you to drive safely.
Intelligent Transport Systems (ITS)
The Intelligent Transport Systems serve a different purpose compared to i-Activsense. This ITS system receives and transmits information about other vehicles and pedestrians on the road to the drive. All Mazda vehicles have various sensors and communication technologies to detect hazards on the road. The vehicle has a 360-degree camera to support hazard recognition and eliminate blind spots. Thus, as a driver, you have a complete awareness of everything around you.
Active Safety Technology
Active safety technology aims to prevent accidents by alerting the driver of potential hazards so that users can avoid hazards. This active technology includes
Blindspot monitoring
Kane keep assist
Mazda radar cruise control
Hill launch assist
Rear vehicle monitoring
Emergency signal system
Forward obstruction warning
And much more
Passive Safety Technology
Passive safety technology reduces the damage when accidents occur. The goal of passive technology is to protect occupants. Here are a few features within this system:
Skyactiv-body – This is a lightweight and durable frame that maintains its shape even when pressure is applied. The continuous frame design is 30 percent more rigid than standard vehicles. As a result, the vehicle is less likely to experience deformities and will provide shock absorption.
SRS airbag system – When frontal or side impact occurs, SRS curtains and airbags are deployed to cover the front and side windows. It's designed to protect the head and chest area of occupants
Shock absorbers throughout the interior of the car
Check Out the Innovative Safety Technologies at Mazda OP
Mazda OP is the "Mazda near me" you've been searching for! Our Mazda dealership is the go-to dealer for anyone living on the southwest side of Chicago. We serve folks living in Orland Park, Oak Lawn, Tinley Park, New Lenox, Frankfort, Countryside, Matteson, and Mokena.
Stop by our location to our vast range of Mazda models. Schedule a test drive or sit inside the vehicles to see the impressive Mazda technology for yourself. If you already have a Mazda vehicle, then you can visit our trusted Mazda service center to handle your repair and maintenance needs. We're located at 8910 W 159th St, Orland Park, IL 60462, or call our sales department at (708) 444-3200.