Mazda EV Models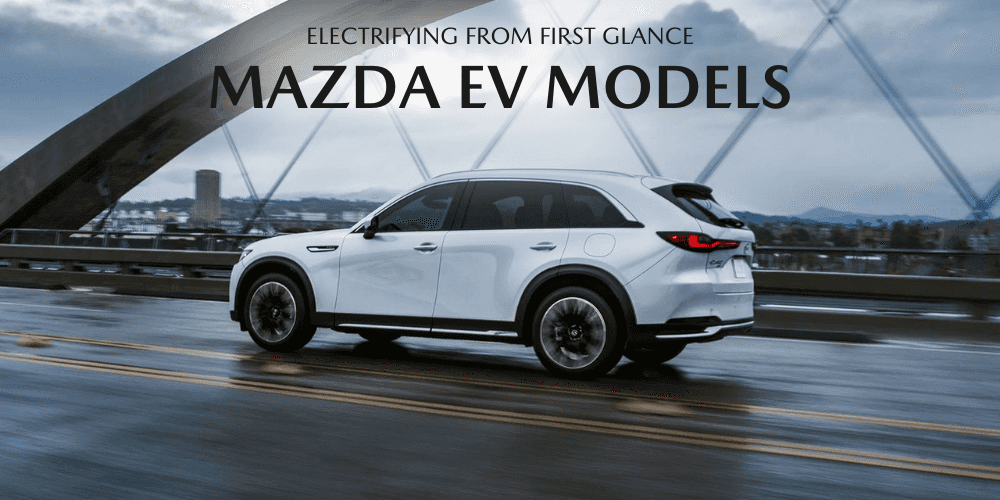 Mazda Orland Park is the place for the people of Chicagoland to learn about the latest in Mazda electric vehicles. That includes news of the new Mazda EV. Mazda has been focusing on the development of internal combustion engines for a long time. However, in recent years, the company has recognized the importance of electric vehicles (EVs) and has been working on developing its own Mazda EV Plans.
---
MAZDA MX-30 EV

Mazda's first fully electric vehicle, the Mazda MX-30, was launched in Europe in 2020, and it features a 35.5 kWh battery pack that provides a range of around 124 miles (200 km) on a single charge. The MX-30 is a compact crossover SUV, and it is designed to provide a smooth and quiet driving experience, which is a hallmark of electric vehicles.
---
MAZDA CX-90 PHEV

Released in the spring of 2023 the 2024 Mazda CX-90 PHEV takes the company's all-new midsize 3-row SUV and enhances efficiency with a plug-in hybrid drivetrain. The 3-row SUV is Mazda's most spacious SUV designed to ensure the comfort and well-being of each passenger. The powertrain of the Mazda CX-90 is has been perfected so that the driving engine dynamically supports the electric motor and increases the driving range of the vehicle. Stop by Mazda of Orland Park today to get behind the wheel of the latest Mazda electric vehicle!
---
Range-extender EVs
The Mazda EV approach to electrification is different from some other automakers, as it is focusing on developing EVs that are designed to be used in conjunction with its existing gasoline-powered vehicles. This means that Mazda is developing range-extender EVs and plug-in hybrid vehicles that can be used for longer trips, while still offering the benefits of electric driving in everyday use.
In summary, Mazda is making strides in the EV market with its current Mazda CX-90 PHEV and upcoming CX-5 EV. The company's focus on creating EVs that are fun to drive and can be used in conjunction with its existing gasoline-powered vehicles is unique and shows Mazda's commitment to providing a seamless transition to electrification for its customers.
---
Mazda of Orland Park
For more information on the new Mazda CX-90 2024, call or visit us today. In addition to Mazda CX-90 PHEV news, we can answer your questions about pricing and availability too. Call our service and sales departments at (708) 444-3200 or visit us at  8910 W. 159th in Street Orland Park.
---
We're open Monday through Thursday from 10 am to 7 pm, Friday from 10 am to 6 pm, and Saturday, from 10 am to 5 pm. Closed on Sunday.